Pro Series: Fantasy Fallout, December
Monday, December 12th, 2016
http://img.redlinederby.com/src/28d83e68.jpg

Welcome to 2016 Pro Series Fantasy Fallout. This is the final tournament of the 2016 Redline Derby Pro Series. Entry is open to everyone. You do not have to have entrered a previous Pro Series tournament to qualify. The points earned in this tournament go towards each racer's Pro Series total. At the end of the year, the racer with the most total points in will be crowned champion.
This will be a standard, double-elimination bracket. The car that wins the final, wins this tournament. Points earned only go towards the Pro Series total, they do not determine the winner of this tournament.
Following this tournament, the overall Pro Series champion will be announced and trophy awarded.
Fantasy Fallout

This is it! The year-long Pro Series finale happens in December with the Fantasy Fallout. We focus a lot on real car models in our races but for the final tournament we're heading in the opposite direction. No real cars allowed...and we're going extreme fantasy with this one too, so no real world inspired cars either. If it looks like a car you'd see on the road, try again.
See below for details.
Rules & Restrictions

Weight: 70g max
Car size: Max 3.25" long by 2" high. Width should fit on standard HW orange track.
Limit 1 cars per entrant
Any brand (See model limits below)
Retail wheels and axles only. Any axle type allowed.
Must be drilled rivets, no stock entries
Dry lubes only
Must be a new build. No previously raced cars.
Casting restrictions

The body of your entry must be a fantasy creation, either retail or your own creation. It SHOULD NOT look like a real car you'd see on the street. Even if it's a Mattel creation but looks legit, avoid it.
We're talking stuff like this...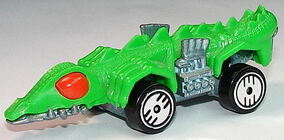 And this, and this and this...but NOT like this...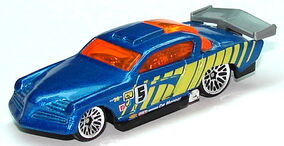 Prizes

The racer that wins this bracket will receive a $10 Amazon.com gift card (digital)
How to enter

Post a reply with your intention to enter, then ship your entry car so that it arrives before December 12, 2016.
Send entries to:
Redline Derby Racing c/o Brian Vaughn
PO Box 842
Grove City, OH 43123
Please include an RLD Entry ID Card with your entry along with some money to cover the cost of returning your car if you want it back.

Scoring and Winning

This is a standard, double-elimination bracket. Each match-up will be best 2-out-3, alternating lanes. Seeding will be random as will any byes that are needed. The car that wins the bracket is champ. Points do not determine the winner of this tournament.
Pro Series points are +10 for every win in the main bracket. The tournament winner will receive +20 for the victory. There will be no points awarded for Loser Bracket wins.

Penalties

Cars will be inspected on arrival and checked for weight and other conditions. Any car that fails inspection will be removed from the tournament and returned to the owner.
Each car is given one do-over if they come off the track during a run. If goes off track a second time, it will forfeit that match.

Host Track

This tournament will be racing on the Redline Derby home track in Ohio. Get specs here
---